 Noblechairs HERO Gaming Chair - SK Gaming Edition, Black/White/Blue
149.900

 K.D.
149.900

 K.D.
149.900

 K.D.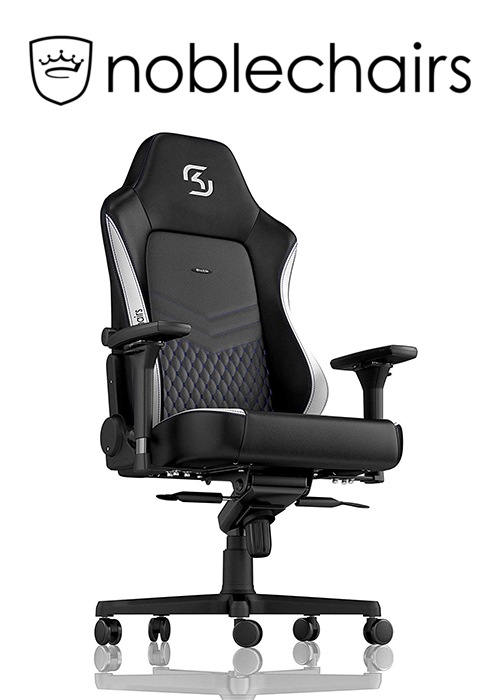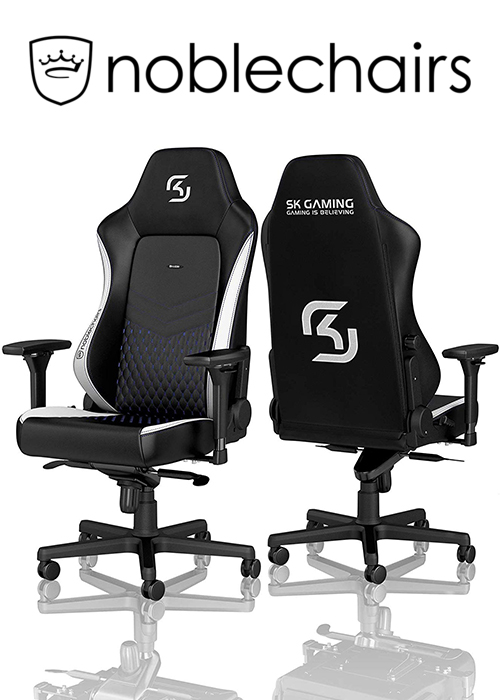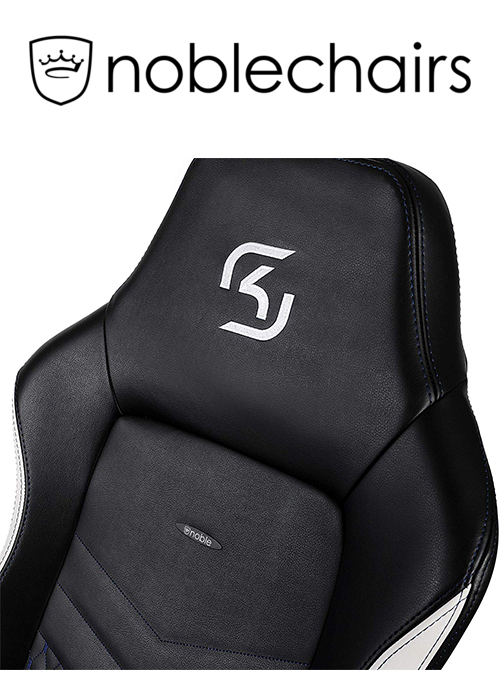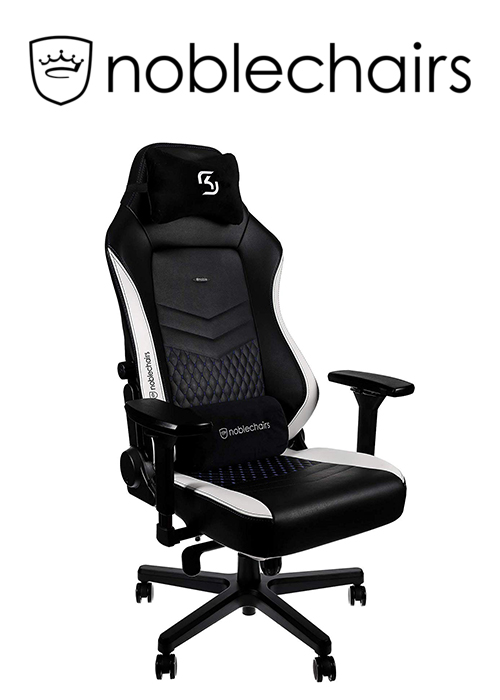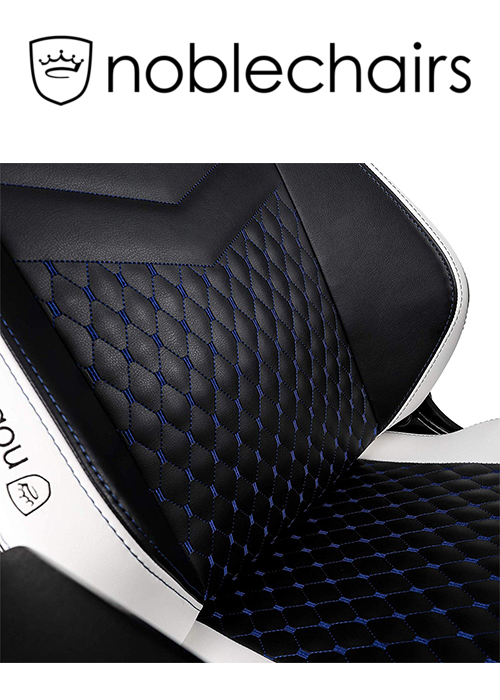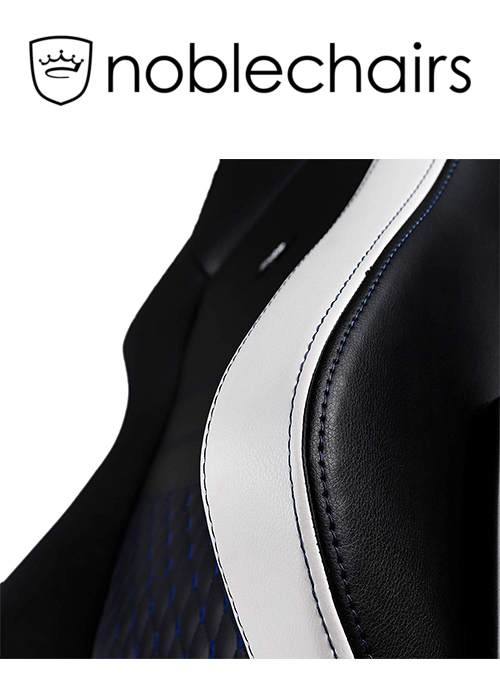 Noblechairs HERO Gaming Chair - SK Gaming Edition, Black/White/Blue
2
---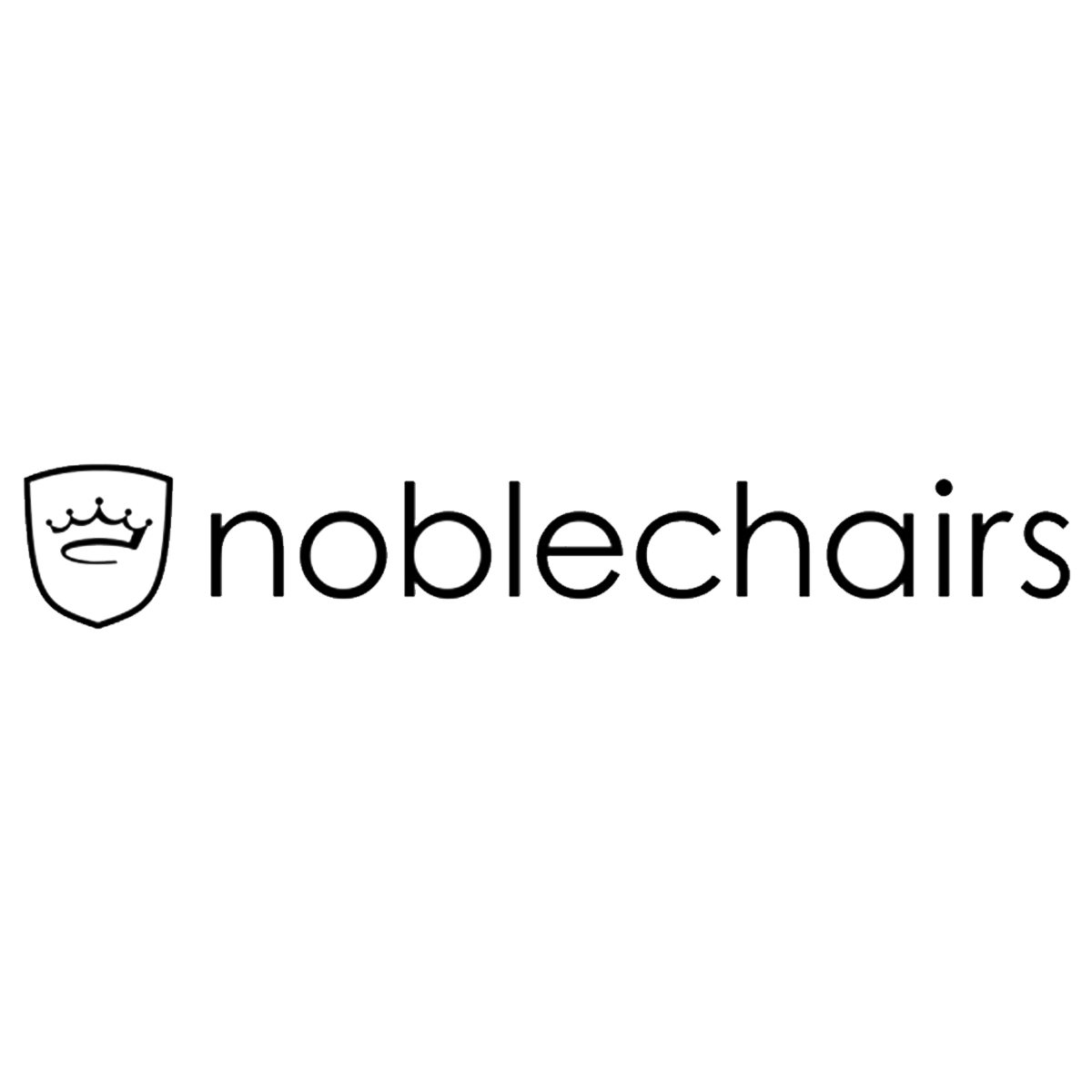 ---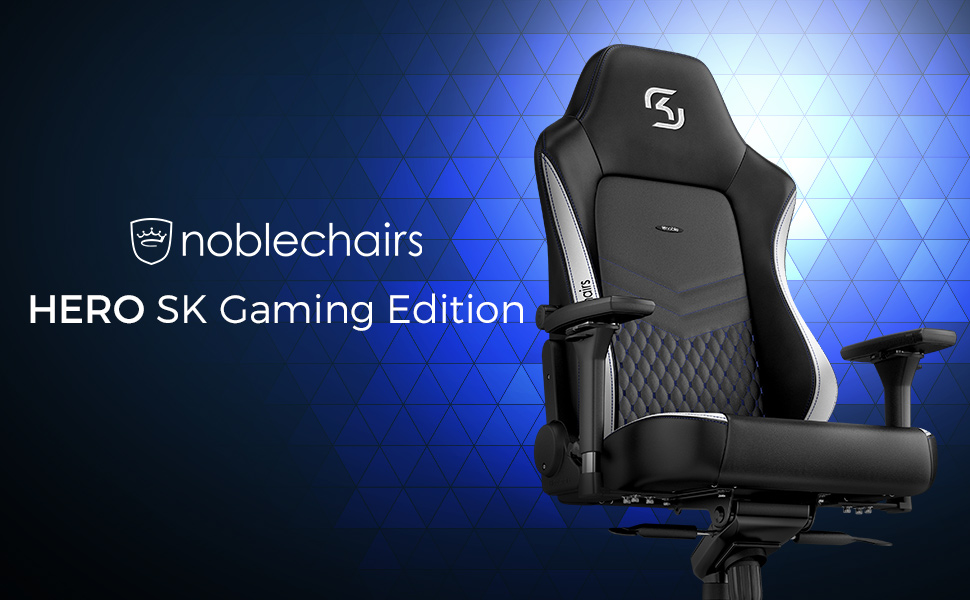 Built for HEROS
In the course of designing the new HERO Series, noblechairs took extensive input and guidance from eSports professionals. The result: the most ergonomic and feature-rich gaming chair ever made and one that offers consistent comfort, even after prolonged hours of working or gaming at your desk. The new stepless lumbar support integrated into the backrest helps to provide superb ergonomic customisation. The headrest is now filled with memory foam to allow its cushioning to better conform to individual head shapes. Furthermore, the backrest, seat area and armrests have all been increased in size. When you're this comfortable, it's tough to tear yourself away from the HERO.

Starting out in 1997 as a Quake clan, SK Gaming has gone on to become one of the most respected and successful eSports team. Their breakthrough came when they moved on to compete in Counter-Strike: Global Offensive tournaments, where they walked away with one prize after another.

In 2017 SK Gaming claimed the CS:GO world title as well as winning 1.5 million Euros. Aside from CS:GO, SK Gaming also have a reputation for success in Fifa, League of Legends, Clash Royale, Hearthstone and Paladins.

In fact, co-founder Ralf Reichelt, has subsequently been appointed manager of Sports organisation ESL, where he has played a vital role raising public consciousness for eSports. With so few teams out there bearing such accolades, noblechairs is proud to add SK Gaming's logo to the latest HERO chair.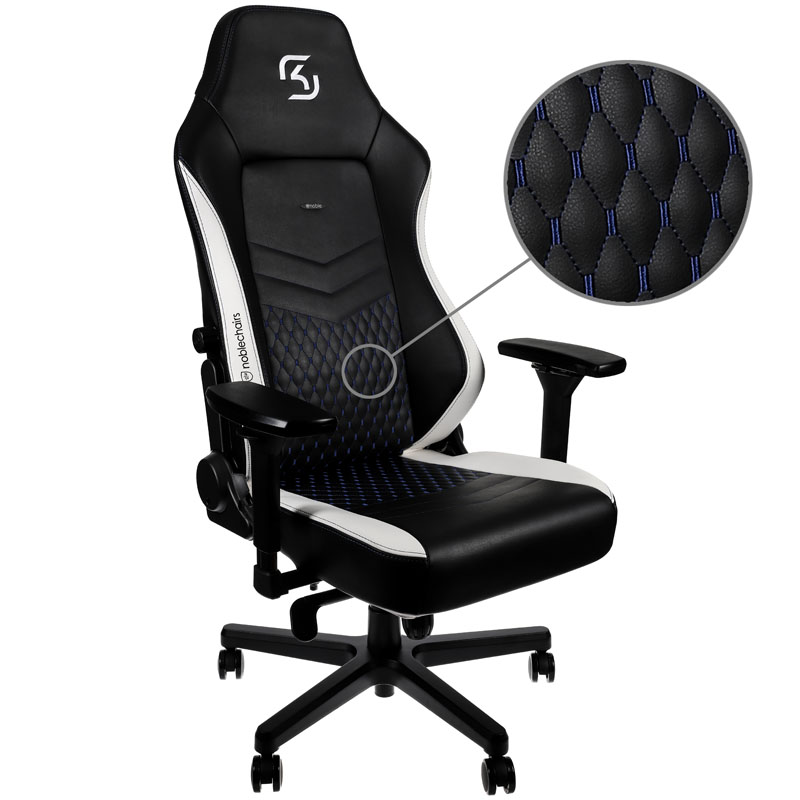 THE NOBLECHAIRS HERO SK GAMING EDITION AT A GLANCE:
Premium real-leather cover
Infinitely adjustable lumbar support for your lower back
Memory foam embedded into the headrest for improved comfort
Enlarged 4D armrests upholstered in polyurethane
Comfortable and breathable cold foam upholstery
Maximum recommended user weight: 150kg Maximum weight supported: 180kg
Stylish SK Gaming logos on the head- and backrest
Stylish PU leather covering in black and white with blue stitching
PREMIUM DESIGN - PRECISION, MACHINE-AUTOMATED CONSTRUCTION

As with all noblechairs designs, the new HERO offer the same consistent premium-quality workmanship that became a byword after first being implemented in the ICON and EPIC series. Achieving the enviable level of consistency and build quality found at noblechairs is only possible by means of machine-only manufacturing.

The steel frame of the HERO is welded with the help of robotic arms, similar to what one might expect to see on an automotive production line. This enables the construction of a flawless and exceptionally durable frame, something for which noblechairs has itself become famous worldwide for over the last few years. Even the chair coverings themselves are tailored by industrial sewing machines to achieve the best possible result.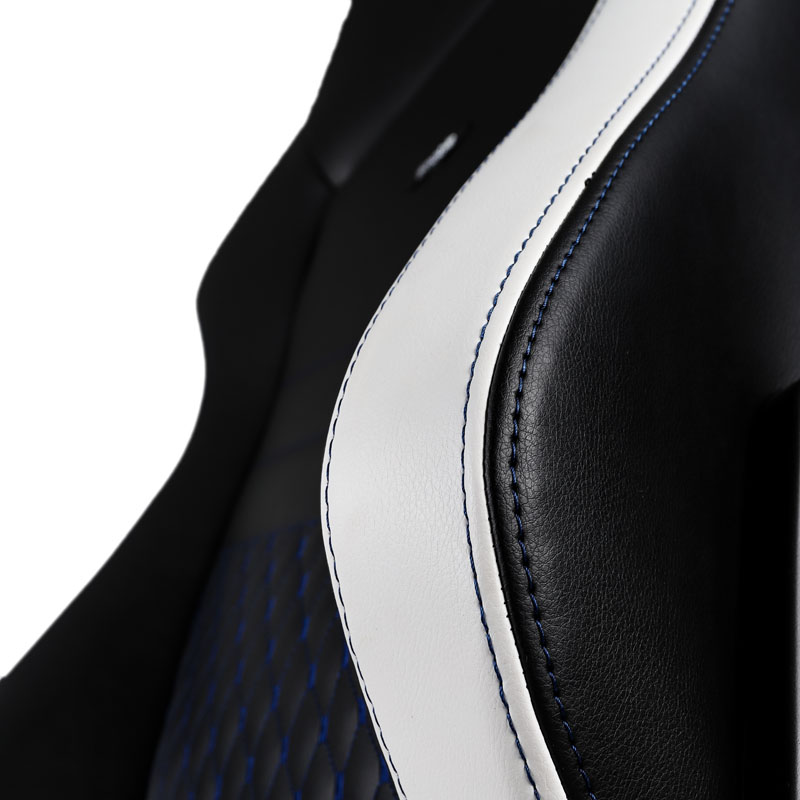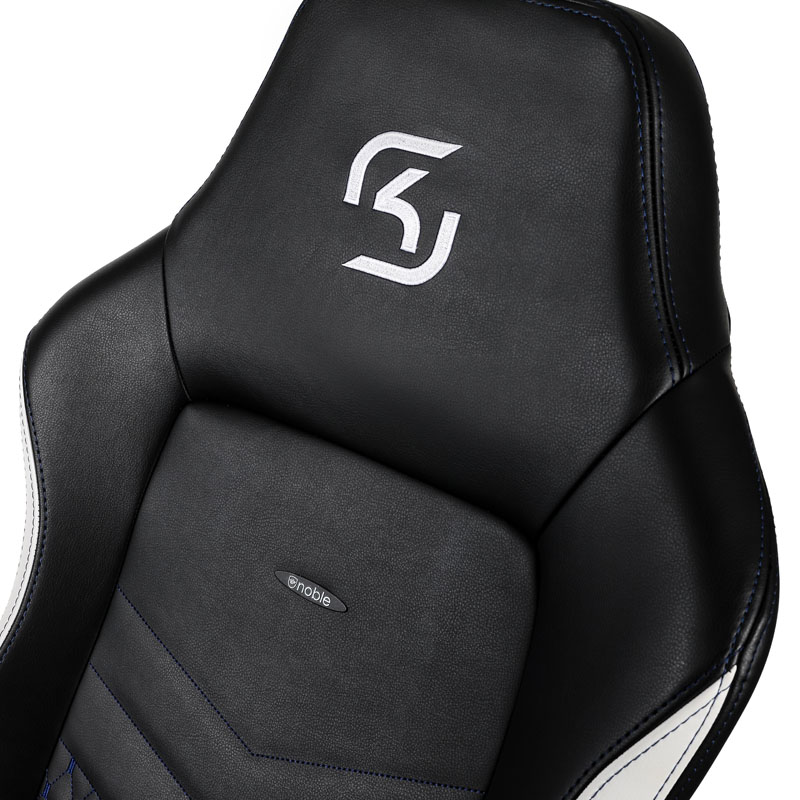 PREMIUM COMPONENTS

The comfortable upholstery consists of a breathable, deformation-resistant cold foam with an exceptionally high 55% density. This enables improved airflow over long periods of use while retaining its shape.

Standing in stark contrast to competing gaming chairs, the noblechairs HERO offers a solid steel frame ensconced within its upholstery. The seat is tailored with a premium PU-leather covering with a thickness of 1,5 mm, which also contributes to its superb durability.
THE PERFECT POSITION FOR EVERY USER

Now that you're sat on noblechairs' HERO, and having adjusted it to meet your personal preferences, now would be the perfect time to try out the new lumbar support. In addition to 10 cm of height adjustment, the seat additionally offers a convenient rocking mechanism.

This allows the entire HERO gaming chair to tip at up to 11°. The backrest can also be adjusted to between 90° and 125°. The chair also comes with two comfortable cushions that round out the design of this gaming chair, making it perfect for eSports champions.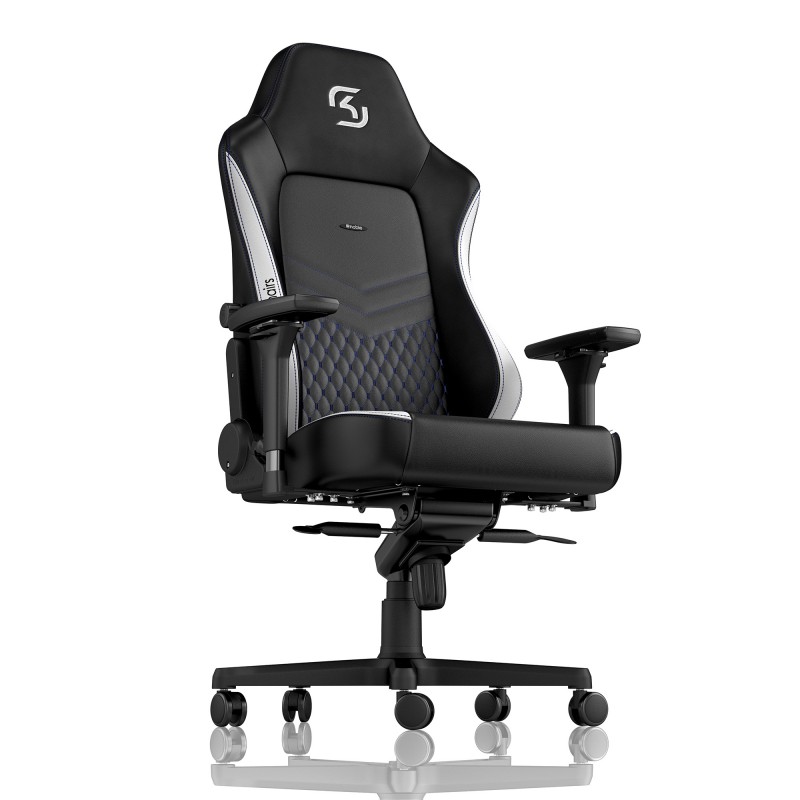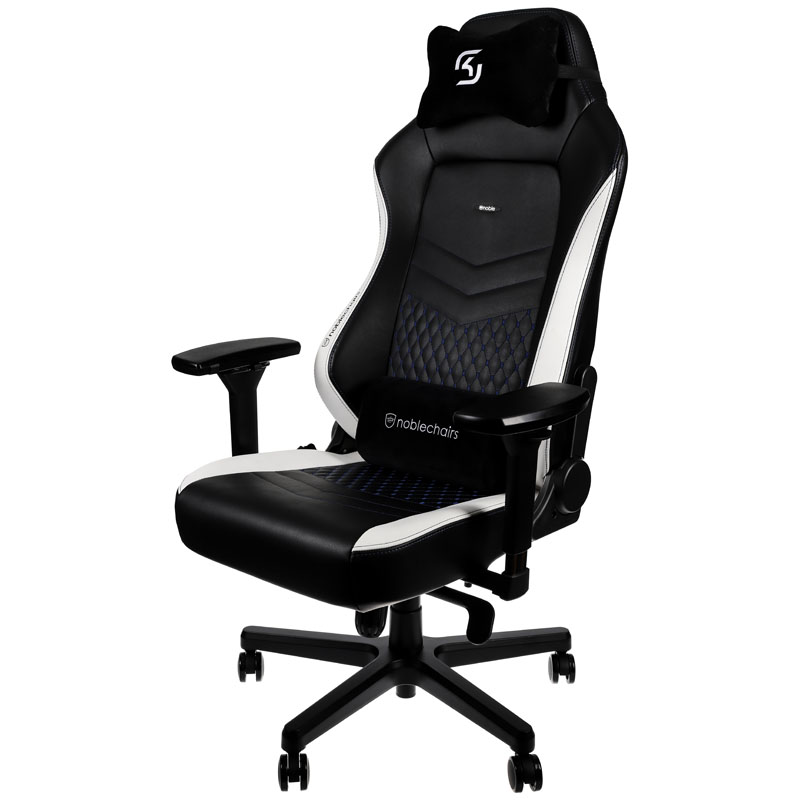 PERFECT HEAD- AND ARM SUPPORT

The new 4D armrests with their new, larger design add to the look of the chair as a whole while also giving your arms additional space.

These armrests can be adjusted in four dimensions, so as to make sure every user can find just the right position. The armrests are also upholstered in polyurethane and, thanks to their textured contact area, offer a pleasant degree of grip as well.
SUITABLE FOR HARD- & SOFT FLOORING

The base of the gaming chair from noblechairs is formed from a five-point powder-coated base consisting of solid aluminium as well as five 60 mm casters with nylon cores that make them equally at home on hard- and soft flooring. The Safety Class 4 gas lift is designed to support up to 180 kg.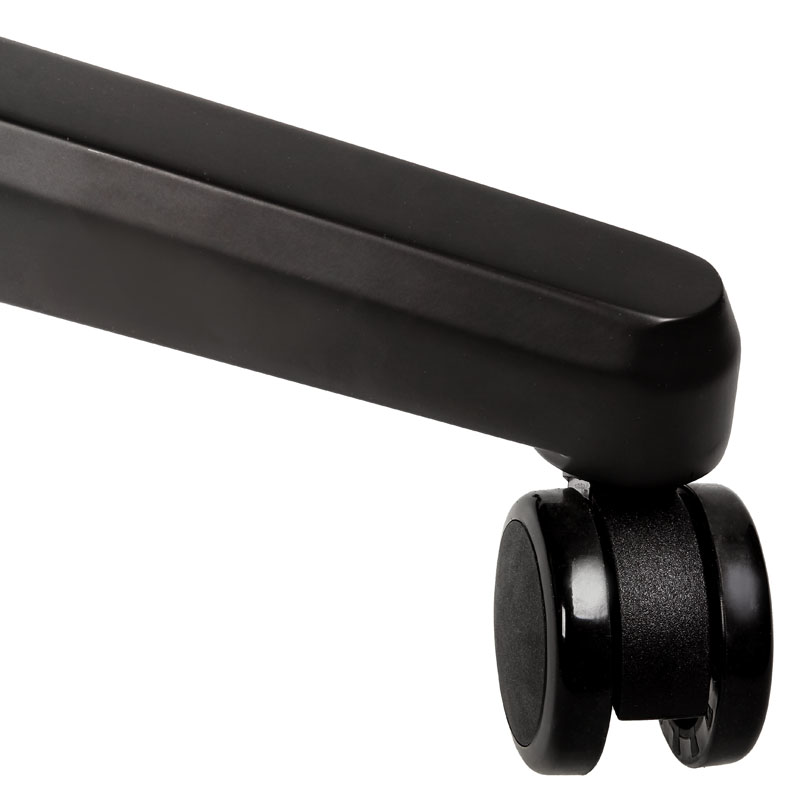 Specifications





Height :


Total Height (with base): approx. 131 - 141 cm
Seat Pan Height (with base): approx. 49.5 - 59,5 cm
Backrest Height: approx. 87 cm
Inner Backrest Width: approx. 29.5 cm
Outer Backrest Width (widest point): approx. 54.5 cm
Inner Seat Surface Area: approx. 35 cm
Outer Seat Surface Area (widest point): approx. 56 cm
Tiefe der Sitzfläche: ca. 49.5 cm
Depth Seating Area (without base): approx. 56.5 cm
Minimum Armrest Height: approx. 66.5 cm



Weight: 

approx. 27 kg



Rocking Mechanism Angle: 

max. 11°



Colour: 

Black / White (blue stitching)



Maximum Weight: 

150 kg




Features:

Integrated lumbar support for lower back
Practical rocking mechanism
4D-armrest adjustment
Angle-adjustable backrest (up to 1=125 degrees)
Flexible seat area
Incl. one lumbar pillow and one neck pillow
Deformation-resistant foam
Safety Class 4 gas lift
Strong 5-point base in solid aluminium
60 mm castors for hard- and soft-flooring
Stable core construction

 
Material

Steel (frame)
Cold foam (upholstery)
PU-Leather (cover)
Aluminium (base)
Nylon / Polyurethane (castors)
Polyurethane (armrests)